SIRIS
Stand-off Integrated Radiation Information System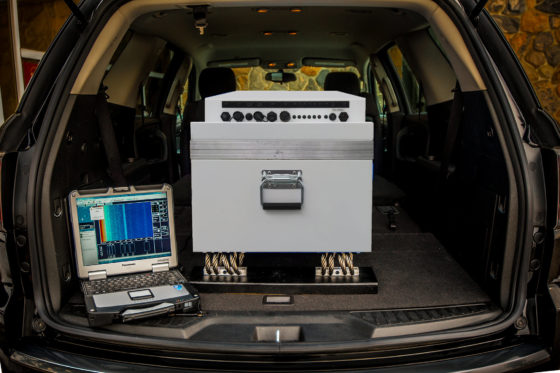 SIRIS is a system developed primarily for CBRNe and Homeland Security applications in radiation monitoring where quick-deployment is paramount.  The system provides immediate radiation detection, directional radiation recognition, isotopes identification, real-time activity calculation of natural and human-made isotopes, customizable notifications and crew safety alarms, and other services.
The SIRIS is equipped with built-in UPS that provides up to 4 hours of an independent operation. The SIRIS Data Acquisition unit (rugged notebook PC) can be connected to the detection module using wireless or Ethernet protocols to provide real-time data visualization and control capabilities. The surveillance results are ready for overlay on a map and reporting right after a mission.
MCA resolution: 256-2048 channels
Energy range: 30kev – 3MeV
Dose Rate Range: 5nGy/h – 0.2Gy/h
Detectors: Two 4 Litre NaI(Tl) gamma detectors, one LiF6/ZnS Neutron detector and one Energy Compensated Geiger-Müller (GM) gamma detector.
Need help?
If you have an enquiry about any of our products or services, please do not hesitate to give us your feedback or suggestions.