|

NuHP HFC
NuHP HFC
Hand-Foot-Clothing Contamination Monitor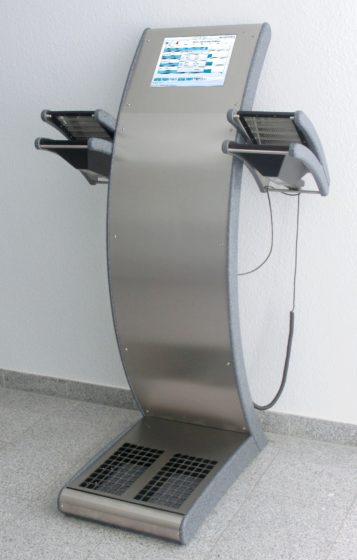 The NuHP HFC product line represents modern stationary contamination monitors, designed for particular use at workplaces with open radionuclide sources. According to the user's specifications, various types, models and versions are available.
For mobile use it can also be equipped with transport wheels and a hand grip.
Depending on the version, the right hand detector can be taken out for use as a frisker probe. Similarly to the standard NuHP HFC-monitor, the narrow version is also available with single or double hand detectors. You can also choose between vertically or horizontally mounted hand detectors.
Key features
Innovative detector technology based on thin-­layer plastic scintillation detectors
No gas-­filled detectors – therefore significant reduction of repair costs
No gas supply required
Appropriate for α and β/γ contamination measurements
PC–based measuring electronics on industry computer basis
User-­friendly menu interface, large-­area colour LCD-­screen for measuring value display
Person­-specific nuclide
Person­-specific contamination
Detachable hand probe, therefore no additional frisker probe required
Integrated calibration software (auto­-calibration) for quality check
Ergonomic housing design with stainless steel front
Network-­compatible connection of HFC­-monitors to a central database / access control and parameter setting functions